By Noor Chadha and Lacy Davisson
Here is a preview of the outstanding exhibitions on view this Fall in New York City:
---
Best of NYC Museum Exhibitions
Hilma af Klint: Paintings for the Future
Guggenheim Museum, 1071 5th Avenue
October 12, 2018 – April 23, 2019

When Hilma af Klint began creating radically abstract paintings in 1906, they were like little that had been seen before: bold, colorful, and untethered from any recognizable references to the physical world. It was years before Vasily Kandinsky, Kazimir Malevich, Piet Mondrian, and others would take similar strides to rid their own artwork of representational content. Yet while many of her better-known contemporaries published manifestos and exhibited widely, af Klint kept her groundbreaking paintings largely private. She rarely exhibited them and, convinced the world was not yet ready to understand her work, stipulated that it not be shown for twenty years following her death.
Ultimately, her work was all but unseen until 1986, and only over the subsequent three decades have her paintings and works on paper begun to receive serious attention. This survey of Hilma af Klint's work will be the first major solo exhibition in the United States devoted to the artist, offering an unprecedented opportunity to experience af Klint's long under-recognized artistic achievements.
 
Andy Warhol: From A to B and Back Again
Whitney Museum of American Art, 99 Gansevoort Street
Nov 2, 2018 – Mar 31, 2019
 

Few American artists are as ever-present and instantly recognizable as Andy Warhol. Through his carefully cultivated persona and willingness to experiment with non-traditional art-making techniques, Warhol understood the growing power of images in contemporary life and helped to expand the role of the artist in society. This exhibition—the first Warhol retrospective organized by a U.S. institution since 1989—reconsiders the work of one of the most inventive, influential, and important American artists. Building on a wealth of new materials, research and scholarship that has emerged since the artist's untimely death in 1987, this exhibition reveals new complexities about the Warhol we think we know, and introduces a Warhol for the 21st century.
 
Delacroix
The Metropolitan Museum of Art, 1000 Fifth Avenue
September 17, 2018 – January 6, 2019
French painter Eugène Delacroix was one of the greatest creative figures of the nineteenth century. Coming of age after the fall of Napoleon, he reconnected the present to the past on his own terms. Delacroix produced an extraordinarily vibrant body of work, setting into motion a cascade of innovations that changed the course of art. This exhibition is the first comprehensive retrospective devoted to this amazing artist ever held in North America.
The exhibition, a joint project with the Musée du Louvre, illuminates Delacroix's restless imagination through more than 150 paintings, drawings, prints, and manuscripts—many never before seen in the United States. It unfolds chronologically, encompassing the rich variety of themes that preoccupied the artist during his more than four decades of activity, including literature, history, religion, animals, and nature. Through rarely seen graphic art displayed alongside iconic paintings, this exhibition explores an artist whose versatile genius set the bar for virtually all other French painters.
Bruce Nauman: Disappearing Acts
MoMA, 11 West 53rd Street and MoMA PS1, 22-25 Jackson Avenue, Long Island City
Through February 2019
 
Presented in two complementary parts, at both The Museum of Modern Art and MoMA PS1, this is the most comprehensive exhibition of the Bruce Nauman's work ever assembled.
 

Nauman has spent half a century inventing forms to convey both the moral hazards and the thrill of being alive. Employing a tremendous range of materials and working methods, he reveals how mutable experiences of time, space, movement, and language provide an unstable foundation for understanding our place in the world. For Nauman, both making and looking at art involve "doing things that you don't particularly want to do, putting yourself in unfamiliar situations, following resistances to find out why you're resisting." At a time when the notion of truth feels increasingly under attack, his work compels viewers to relinquish the safety of the familiar, keeping us alert, ever vigilant, and wary of being seduced by easy answers.
 
 
Everything is Connected: Art and Conspiracy
The Met Breuer, 945 Madison Avenue
September 18, 2018 – January 6, 2019
For the last fifty years, artists have explored the hidden operations of power and the symbiotic suspicion between the government and its citizens that haunts Western democracies. Everything Is Connected: Art and Conspiracy is the first major exhibition to tackle this perennially provocative topic. It traces the simultaneous development of two kinds of art about conspiracy.
The first half of the exhibition comprises works by artists who adhere strictly to the public record, uncovering hidden webs of deceit—from the shell corporations used by New York's largest private landlord, interconnected networks encompassing politicians, businessmen, and arms dealers. In the second part, other artists dive headlong into the fever dreams of the disaffected, creating fantastical works that nevertheless uncover uncomfortable truths in an age of information overload and weakened trust in institutions.
Featuring seventy works by thirty artists in media ranging from painting and sculpture to photography, video, and installation art, from 1969 to 2016, Everything Is Connected: Art and Conspiracy presents an alternate history of postwar and contemporary art that is also an archaeology of our troubled times.
---
Chelsea Galleries
Tauba Auerbach: A Broken Stream
Paula Cooper Gallery, 524 West 24th Street
November 10 – December 22, 2018
Working in video, sculpture, drawing and painting, Tauba Auerbach probes fluid behaviors alongside new theories of anatomy, mind and the cosmos. The exhibition will include a performance by Greg Fox on November 30th.
Building from her recent exhibition at MOCA Cleveland, A Broken Stream extends Auerbach's interest in the fields of mathematics and physics as they intersect with form, consciousness and subjective experience. Supported by an investment in crafts such as flame-working, calligraphy and marbling, the works harness various natural phenomena to render the invisible visible.
Louise Bourgeois: Spiral
Cheim & Read, 547 West 25th Street
November 8 – December 22, 2018
This exhibition explores the range of Bourgeois' spiral motifs as expressed in sculpture, painting, and drawing, from the early 1950s through 2010, the year of her death. It also includes a series of spiral word drawings made on blue paper in 1986.
In materials as diverse as wood, steel, bronze, latex, marble, plaster, resin, hemp, lead, ink, pencil, crayon, woodcut, watercolor, and gouache, Bourgeois investigates every imaginable manifestation of the spiral, from graphic patterns to graphite whorls, wobbly orbits to chiseled vortices, twisted columns to coiling snakes, staircases, and pyramids. The cursive blue-paper word drawings, in English and French, complement the purely visual works by conveying the spirit of Bourgeois' poetry in extraordinary pictorial forms.
In a statement recorded in the book, Louise Bourgeois: Designing For Free Fall by Christine Meyer-Thoss, the artist has called the spiral "an attempt at controlling the chaos. It has two directions. Where do you place yourself, at the periphery or at the vortex?" The spiral is simultaneously "the fear of losing control" and the experience of "giving up control; of trust, positive energy, of life itself."
Mark Grotjahn: New Capri, Capri, Free Capri
Gagosian Gallery, 555 West 24th Street
October 30 – December 22, 2018
Instead of coming up with a different motif each time, I'd rather just have one motif and within that motif get experimental. But there are always exceptions to my rules. 
—Mark Grotjahn
New Capri, Capri, Free Capri, are three interconnected series of paintings by Mark Grotjahn and his largest exhibition of new work to date. Stemming from a body of work that he created for a private presentation at Casa Malaparte on the isle of Capri, Italy, in 2016, these paintings signal an entirely new direction in Grotjahn's practice, as he breaks away from the Face paintings in favor of a more experimental, spontaneous working process.
In his paintings, drawings, and sculptures, Grotjahn interweaves and revitalizes various historical modes of abstraction, probing the limits between gesture and geometry, impulse and exactitude. His works unfold according to precise yet mutating rubrics, resulting in an expansive vocabulary of visual motifs that migrate from one series to the next in compulsive, self-referential permutations. Like sedimentary cross sections or horizonless landscapes, the Capri series contrast the allover quality of Abstract Expressionism with moments of controlled, almost minimalist, logic.

Svenja Deininger: Crescendo
Marianne Boesky Gallery, 509 West 24th Street
October 25 – December 22, 2018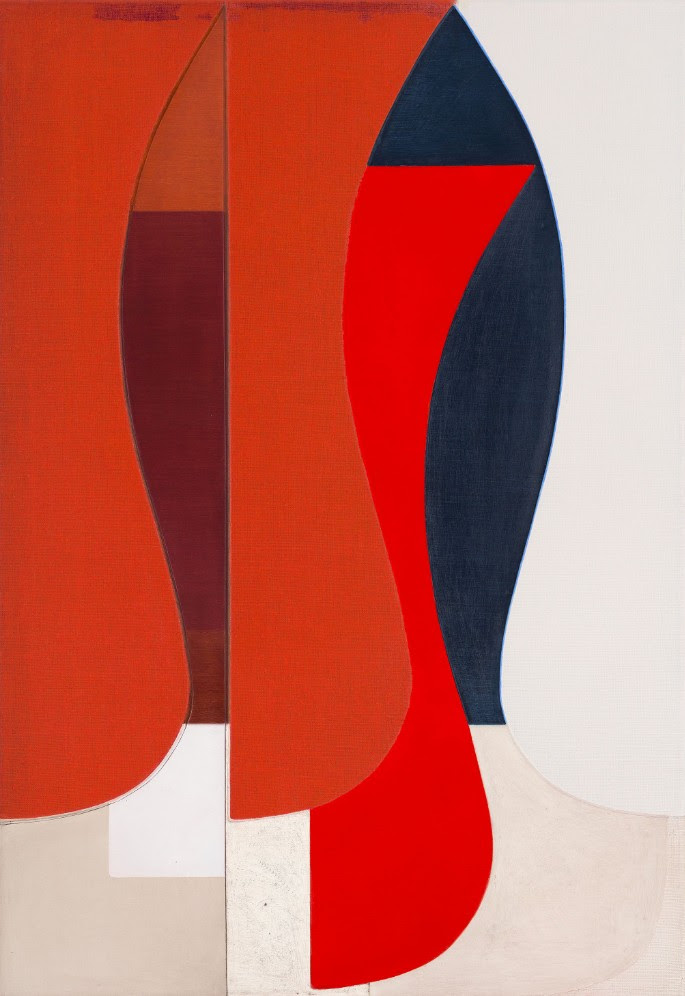 Svenja Deininger: Crescendo features a new body of paintings that captures Deininger's fluid manipulation of color and form, resulting in complex compositions that arise organically as she works the canvas. Driven by both formal inquiry and a deep understanding of physical environment, Deininger creates a holistic experience.
Deininger approaches each exhibition as a distinct moment in time, following a single conceptual thread or inkling until it completes in a discrete body of work. In this way, Deininger is much like a composer, weaving together gesture, color, and line to create an intricacy of texture and rhythm, with each painting bringing a singular note and weight to the overall experience. Suspended between abstraction and figuration, her canvases evoke a range of seemingly intangible sensations—a fleeting dream, a spark of memory, the indiscernible outlines of a place, or an emotion lost but newly felt. These evocations are most recently influenced by her time spent painting in Milan, where she began this latest body of work, and Vienna, where she completed it. While devoid of any overt reference or symbol, the atmospheric and structural contours of her home and briefly adopted city have inspired both palette and silhouette within these new paintings.
---
Uptown Galleries
KAWS: Gone
Skarstedt Gallery, 20 East 79th Street
November 8 – December 19, 2018
Gone is the KAWS's inaugural show upon joining Skarstedt Gallery, debuting four large-scale bronze sculptures, and a series of new paintings.
Ranging from 6ft. to 8ft. tall, KAWS's bronze figures command moments of careful contemplation, yet comfort viewers with their visual familiarity including KAW's iconic character, CHUM. While CHUM has previously been cast valiantly charging towards the future, the character now stands with its head hanging low in a resoundingly solemn tone. Nudging at the viewer's subconscious, KAWS subtly alludes to the complex cultural and political environments in which we live. The artist's ability to rouse new personalities out of intriguing cast of characters reveals an endless commitment to his practice of skillfully manipulating form, shape, surface, and color to evoke an immediate response.
New insights to KAWS's ideology also reveal themselves in the curation of paintings, which, unique to this body of work, feature a different color palette – viewers are brought to exalt in rich earthy tones: deep green, burgundy, moss, teal, and pops of neon yellow. Elements of landscapes are abstracted, and figurative features are shroud in washes of the rich tones.  Carrying through the lifespan of KAWS's work, the signature "X" reveals itself again only to be layered by shadowy foregrounds, establishing the sense of being in a place within the artist's mind.
David Hockney: Etchings
Pace Prints, 32 East 57th Street
October 13 – December 8, 2018
Twenty years ago, David Hockney created a series of etchings at his Los Angeles studio in collaboration with master printer Maurice Payne. Pace Prints was privileged at that time to exhibit these very sensitive etchings.
As part of its celebration of its 50 Years as a print publisher and dealer, the Hockney archives agreed to make available for this exhibition a limited number of these prints that had remained in the possession of the Hockney archives for the past 20 years.
The centerpiece of the exhibition will be Dog Wall, 1998, comprising 15 black and white etchings. The individual prints vary in scale and are an impressive and dynamic suite of images. In addition to Dog Wall, several Hockney images will be on exhibition including the black and white etchings, Cacti on Terrace, Peonies in a Glass Vase, Black Wire Plant, Wooden Stool with Book, and Steel Stool with Newspaper and the two-color etchings, Van Gogh Chair (White), Chair with Book on Red Carpet, Homemade Etching, and Red Wire Plant.
This exhibition will be an exciting recreation of the one that took place in this gallery twenty years ago and once again be able to offer these extraordinary examples of Hockney's draftsmanship and dynamic imagery.