By Noor Chadha and Lacy Davisson
Here is a preview of the outstanding exhibitions on view this Fall in New York City:
---
Best of NYC Museum Exhibitions
Grant Wood: American Gothic and Other Fables
Whitney Museum of American Art, 99 Gansevoort Street

March 2 – June 10, 2018

Grant Wood's American Gothic-the double portrait of a pitchfork-wielding farmer and a woman commonly presumed to be his wife-is perhaps the most recognizable painting in 20th century American art, an indelible icon of Americana, and certainly Wood's most famous artwork. But Wood's career consists of far more than one single painting. Grant Wood: American Gothic and Other Fables brings together the full range of his art, from his early Arts and Crafts decorative objects and Impressionist oils through his mature paintings, murals, and book illustrations.
The exhibition reveals a complex, sophisticated artist whose image as a farmer-painter was as mythical as the fables he depicted in his art. Wood sought pictorially to fashion a world of harmony and prosperity that would answer America's need for reassurance at a time of economic and social upheaval occasioned by the Depression. Yet underneath its bucolic exterior, his art reflects the anxiety of being an artist and a deeply repressed homosexual in the Midwest in the 1930s. By depicting his subconscious anxieties through populist images of rural America, Wood crafted images that speak both to American identity and to the estrangement and isolation of modern life.

The Senses: Design Beyond Vision
Cooper Hewitt, Smithsonian Design Museum, 2 East 91st Street
Now – October 28, 2018
Explore experimental works and practical solutions designed to inspire wonder and new ways of accessing our world. Wander through a scented snowstorm, play a furry instrument in a Tactile Orchestra, investigate the sonic properties of glass, and experience many more multisensory experiences from some of the world's most creative thinkers. With over 65 design projects and more than 40 objects and installations to touch, hear, and smell, The Senses is an inclusive celebration of the sensory richness of design.
Sensory design recognizes that we understand and navigate the world with all five of our senses. Organized into nine thematic sections, The Senses demonstrates that by opening up to multiple sensory dimensions, designers reach a greater diversity of users. These innovations are beneficial to all users as sensory design enhances awareness of the body and creates new emotional terrain through its stimulation of our visceral responses.

David Bowie is
Brooklyn Museum, 200 Eastern Parkway, Brooklyn
March 2 – July 15, 2018
Organized with unprecedented access to David Bowie's personal archive, this exhibition explores the creative process of an artist whose sustained reinventions, innovative collaborations, and bold characterizations revolutionized the way we see music, inspiring people to shape their own identities while challenging social traditions. David Bowie ishas been touring globally for the past five years and is taking its final bow at the Brooklyn Museum, providing an opportunity to view this one-of-a-kind material.
David Bowie is presents approximately 400 objects drawn primarily from the David Bowie Archive, including the artist's original costumes, handwritten lyric sheets from famous songs, original album art, photographs, and videos, all tracing Bowie's creative process from his teenage years in England through his last twenty years, when he resided in New York City. The archive is presented within an immersive, multimedia installation that includes continuous audio along with projected animation and video.

Like Life: Sculpture, Color, and the Body

The Met Breuer, 945 Madison Avenue
March 21 – July 22, 2018
Seven hundred years of sculptural practice-from fourteenth-century Europe to the global present-are examined anew in this groundbreaking exhibition. Like Life: Sculpture, Color, and the Body (1300-Now)explores narratives of sculpture in which artists have sought to replicate the literal, living presence of the human body. Like Lifeplaces key sculptures from different eras in conversation with each other, in order to examine the age-old problem of realism and the different strategies deployed by artists to blur the distinctions between original and copy, and life and art.
On view at The Met Breuer, this major international loan exhibition of about 120 works draws on The Met's rich collections of European sculpture and modern and contemporary art, while also featuring a selection of important works from national and international museums and private collections.

Being: New Photography 2018
MoMA, 11 West 53rd Street
March 18 – August 19, 2018
Every two years, MoMA's celebrated New Photography exhibition series presents urgent and compelling ideas in recent photography and photo-based art. This year's edition, Being, asks how photography can capture what it means to be human.
At a time when questions about the rights, responsibilities, and dangers inherent in being represented-and in representing others-are being debated around the world, the works featured in Being call attention to assumptions about how individuals are depicted and perceived. Many challenge the conventions of photographic portraiture, or use tactics such as masking, cropping, or fragmenting to disorient the viewer. In others, snapshots or found images are taken from their original context and placed in a new one to reveal hidden stories. Together, they explore how personhood is expressed today, and offer timely perspectives on issues of privacy and exposure; the formation of communities; and gender, heritage, and psychology.
---
Chelsea Galleries
Marlene Dumas: Myths & Mortals

David Zwirner, 537 East 20th Street
April 28 – June 30, 2018
David Zwirner is pleased to present Myths & Mortals, an exhibition of new work by Marlene Dumas. In this exhibition, the artist's second with the gallery and her first solo presentation in New York since 2010, Dumas will debut an expansive series of works on paper originally created for a recent Dutch translation of William Shakespeare's narrative poem Venus & Adonis (1593) by Hafid Bouazza. Tender and erotic with hints of violence, these drawings depict the story of Venus, the goddess of love, and her tragic passion for the handsome youth Adonis in the artist's singularly expressive ink wash. Alongside these works, the exhibition will feature a selection of new paintings that range from monumental nude figures to intimately scaled canvases that present details of bodily parts and facial features.

Jane Freilicher: '50s New York
Paul Kasmin Gallery, 293 Tenth Avenue
April 18 – June 9, 2018
This is Paul Kasmin Gallery's debut exhibition of paintings by Jane Freilicher (1924 – 2014), whose estate the gallery now represents. The presentation is the first to focus on Freilicher's paintings from the 1950s; a body of work that critic Fairfield Porter termed "traditional and radical." It includes early still lifes, portraits and the studio views that elucidate her characteristically deft balance of interior and exterior. Hailing from the 1950s and painted within various studios in lower Manhattan, the works are evocative of a downtown milieu that has since come to represent the period's golden age of spirited, improvisational artistic freedom. They articulate Freilicher's enduring influence: her steadfast observation and intuitive realism are detectable within the work of a number of painters working today.
Over a six-decade career, Freilicher quietly painted in direct contrast to the heroic and gestured angst of Abstract Expressionism, the industrial starkness of Minimalism, and the broad sweeping cacophony of Pop. She painted in the same spirit and dedication as Bonnard and Matisse: a subtle and unrelenting observation of domestic life. John Ashbery in a 1975 review described Freilicher with "obviously she paints what she sees, but it happens that she sees a lot."

Charles Ray: three rooms and the repair annex
Matthew Marks, 522 & 526 West 22nd Street
May 3 – June 16, 2018


Ray has divided the larger gallery, 522 West 22nd Street, into three rooms and installed a single sculpture in each one. Next door at 526 West 22nd Street are a pair of small-scale sculptures, Mechanic 1 and Mechanic 2 (2018). The five new sculptures include Reclining Woman (2018), in the center of the main room, machined from a solid block of stainless steel. Presented in a relaxed pose on a rectangular steel base almost at eye level, the figure is slightly larger than life-size. The subject's body has not been idealized, and every detail, from the toes on her feet to the mole on her cheek, is carved with a directness matched by her frank facial expression.

Mernet Larsen: Situation Rooms
James Cohan, 533 West 26th Street

April 19 – June 16
Throughout a career spanning nearly sixty years, Mernet Larsen has developed a painting practice that reconsiders the spatial conventions of narrative painting. The vertiginous spaces she renders using altered perspectives, offer familiar versions of reality that are analogous yet alien to our own and take inspiration from the geometric abstractions of El Lissitzky and the narrative stylization of 12th-century Japanese and early Renaissance paintings.
For Situation Rooms, Larsen returns to a familiar subject of people sitting around tables. The title of the show conjures an image of spaces where important events transpire or difficult decisions are made, and, in some of these works, the trappings of governance are apparent.

Jorinde Voigt: Integral
David Nolan, 527 West 29th Street
May 4 – June 23, 2018
In this exhibition, Voigt will debut a brand new series of works, collectively titled Immersion. Exploring new techniques and materials, these drawings touch on notions of perception as well as the artist's deeply personal philosophy of the self. Alongside these, the exhibition will feature a suite of highly polished cast bronze sculptures, which introduce a markedly material dimension to Voigt's unique conceptualization of forms and ideas.
A recurrent motif in the Immersion series is the image of a torus, rendered three-dimensionally. For the artist, this form is the ideal metaphor for perception and self-understanding: inside and outside are equivalent, existing in continual dialogue. The performative actions and complex techniques involved in making these works also mirror the artist's multi-levelled thinking: successive layers of ink, pastel, colored pencil, and gold leaf are intricately inlaid and conspire to invoke Voigt's invented worlds.
---
Uptown Galleries
An Eccentric View: Tauba Auerbach, Jo Baer, Marsha Cottrell, Tara Donovan, Eva Hesse, Kathleen Jacobs, Yayoi Kusama, Agnes Martin, Mira Schendel 
Mignoni Art, 960 Madison Ave, Second Floor
May 1 – June 19, 2018
The exhibition brings together nine multi-generational women who assume divergent approaches to their work; however, key overlapping and shared concerns can be traced in their practices. Included are works from the beginning of the mid-60s through to the present day.
This exhibition looks at the affinities between the works of these nine Post-War and Contemporary female artists, the variety of their practices, and how their works and sensibilities interact. The works on view present key examples of these artists' unique approaches to sculpture and painting, and offer insights into their respective choices of mediums and techniques.
Artists such as Jo Baer, Agnes Martin, and Eva Hesse share a sensibility that was associated with Minimalism; however, they developed approaches that countered much of that tendency's rigidity of form and theory. Their works were instrumental in the paradigm shift toward Post-Minimalism. In presenting their work alongside other contemporaries and artists of later generations, we can trace a fascinating and ongoing dialogue that engages a variety of issues, including materiality, repetition, nature, and subjectivity.

Urs Fischer: Sōtatsu
Gagosian, 980 Madison Avenue
May 3 – June 23, 2018
"Art is open – it can go on endlessly."
– Urs Fischer
This exhibition features Sōtatsu, a new painting in nine parts by Urs Fischer. Installed in successive panels along the walls of a single room, Fischer explores the ways that space can be divided, stretched, opened, and closed-creating a panorama that is as continuous as it is fragmented. Inspired by the hand scrolls and painted screens of early seventeenth-century Japanese artist Tawaraya Sōtatsu, Fischer's interior landscape uses negative space, light, and repetition to evoke time and movement. Sōtatsu, whose work Fischer has long admired, was a cofounder of the Rinpa school, which favored traditional Japanese subjects, such as gardens, cranes, the four seasons, and references to Heian-period poetry, while incorporating shimmering metallic backgrounds, bold colors, and images intersecting with calligraphic text.
In a twenty-first-century echo of Sōtatsu's aesthetic innovations, Fischer merges traditional art historical themes with new technologies. The painting is handmade on a digital substrate, then silkscreened onto aluminum panels. Instead of a direct translation from tablet screen to paper surface, Fischer's process imbues the digital image with an analog tactility; in some places, his painterly gestures loosen, revealing patches of the shiny aluminum beneath.

John Baldessari: All Z's (Picabia/Mondrian)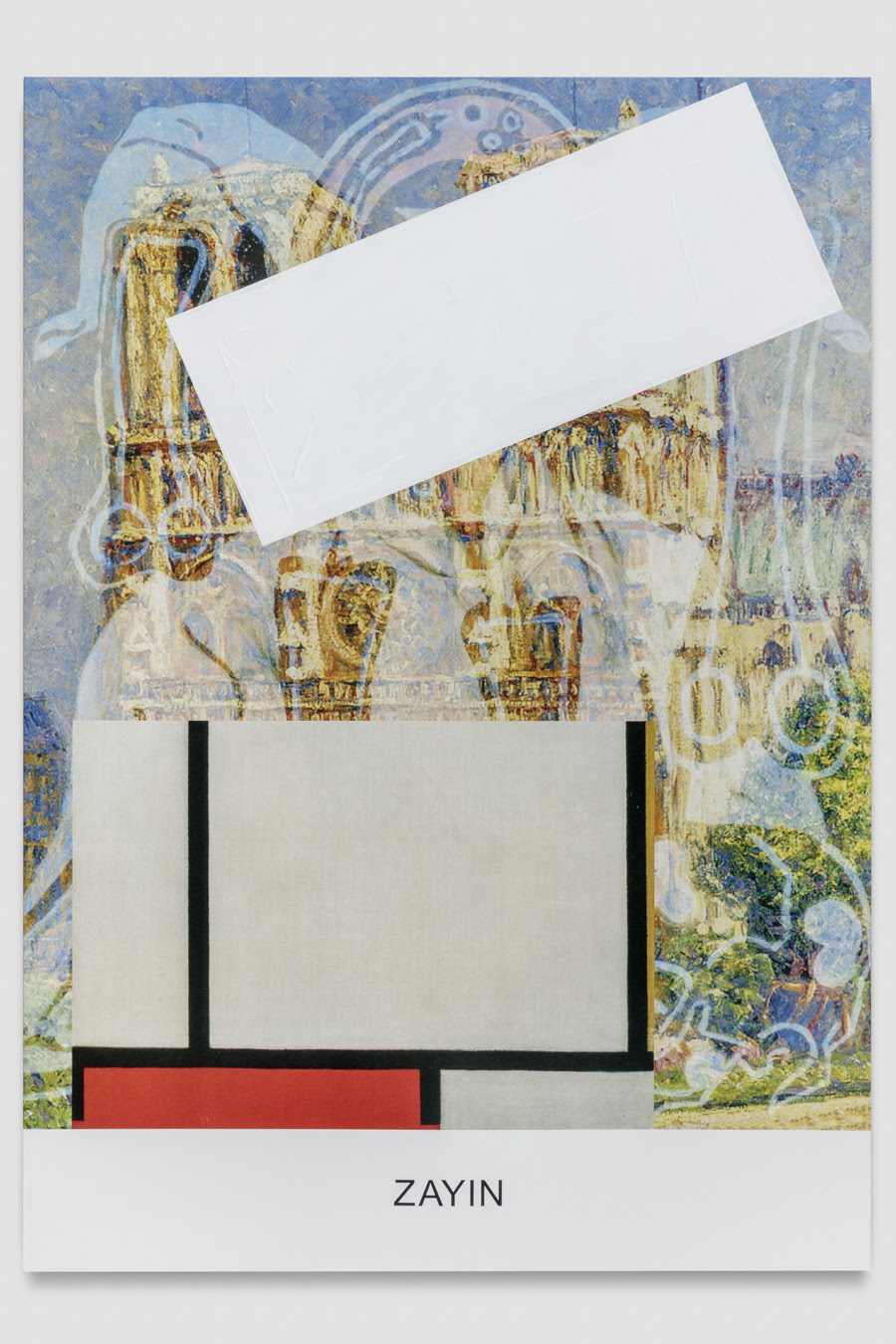 Marian Goodman Gallery, 24 West 57th Street
May 4 – June 22, 2018
Building on Baldessari's homages to the art historical canon, which have centered on subjects from Giotto to Miro to Pollock/Benton, this exhibition pairs two icons of art, Picabia and Mondrian.
"This was the first time I collided the two, Picabia and Mondrian. Mondrian is an icon of contemporary art. I felt it was the time to put the two together. Collision is a working principle of mine. When you collide two things, you see what makes them special or different."
Baldessari transposes fragments from these two masters, layering, opposing, and intersecting their histories with his own interventions and white blockages to construct a composite third way. Delighting in the pairing of incongruent words and images, he presents them as interchangeable and equal, creating a point of departure for an interconnected path that achieves a new reading.